High Street SNT Ward Panel - Online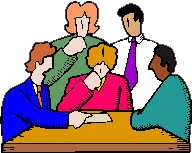 During the present Covid-19 situation the ward panel is meeting online to ensure social distancing, and this is likely to continue for some time. So far, the online meetings have been very successful!
We use Microsoft Teams for this, as preferred by the Met. If you're familiar with other onling meeting applications, you'll find Teams similarly straightforward. About 48 hours before the meeting, regular members and others who have asked to join in will be sent a link by email. When the meeting is due to start, simply click the link and follow the on-screen instructions and you'll soon be part of the meeting.
Naturally, you'll need to use a device which is connected to the Internet - this can be a PC, a laptop or a mobile. All you need is a web browser (e.g. Chrome, Firefox, Edge, Safari, etc) to participate fully, though if you download the free Teams app (available for Windows, MacOs, Android, iOS) there are more options available.
You don't need a web-cam, and if you have one its use is entirely optional. To participate fully you'll need a microphone on your device - any mobile will have one, of course, as will many laptops. If you don't have a microphone you can still listen in if your device has speakers or headphones available.
We ask that participants mute their microphone except when asked to un-mute by the Chair - this allows each person to be heard, and also prevents distracting "feedback". We ask that anyone wishing to speak should raise a hand - either on camera, or ideally using the facility provided in Teams. You can also use the Chat window to send messages, including a request to speak.
The online environment means it's even more important not to speak over another person, but if you follow the directions of the Chair we can all take turns to speak, and it all works remarkably well!